Charles Ives Concert Series Composer-in-Residence Program
The Series is dedicated to the music of our time and in just a few short years has featured the music of over 30 living American composers including Derek Bermel, Emily Cooley, John Corigliano, Max Grafe, Aaron Jay Kernis, Ursula Kwong-Brown, David Ludwig, Hilary Purrington, Kevin Puts, Daniel Roumain, Caroline Shaw, the series two artistic directors Paul Frucht and Jon Cziner, 2016 composer-in-residence Robert Beaser, and 2017 composer-in-residence Justin Dello Joio, and 2018 composer-in-residence Nina C. Young.
In 2019, the Ives Series continues its commitment to today's music through its composer-in-residence program. Established in 2016, the composer-in-residence spends several days in Danbury in August, receives a performance of at least two works throughout the calendar year, gives a master class at the Chamber Music Intensive where the composer also gives private lessons and guides our artist-faculty readings of participant composer works. This year, the Series is proud to host Robert Paterson as our composer-in-residence.
Read about him below and be sure to catch him and his music on May 13th at the Leonard Nimoy Thalia at Peter Norton Symphony Space and then in Danbury this coming August!
 Robert Paterson, 2019 Composer-in-Residence
A "modern day master" and often the "highlight of the program" (The New York Times), Robert Paterson's music is loved for its elegance, wit, structural integrity, and a wonderful sense of color. Paterson was named The Composer of The Year from the Classical Recording Foundation with a performance and celebration at Carnegie's Weill Hall, and his music has been on the Grammy® ballot yearly.
Paterson's works have been played by the Louisville Orchestra, Minnesota Orchestra, American Composers Orchestra, Austin Symphony, Vermont Symphony, Pittsburgh New Music Ensemble, New York New Music Ensemble, BargeMusic, California EAR Unit, and Ensemble Aleph in Paris. Recent performances include the world premiere of Ghost Theater, commissioned by the Albany Symphony's Dogs of Desire.
Season highlights include The Nashville Opera world premiere of THREE WAY in January, 2017 and then to BAM in Brooklyn, June, 2017. The New York Premiere of his opera, The Whole Truth with a libretto by Mark Campbell, sold out in January 2016, at Dixon Place in New York City. Whitman's America was premiered for orchestra and chorus by the Gulf Coast Symphony, Moon Music by the Claremont Trio, and Graffiti Canons by the Volti choir in San Francisco. His string orchestra work, entitled I See You was performed by an all-star orchestra conducted by Delta David Gier, with the Jack Quartet, Del Sol Quartet, PUBLIQuartet and American Modern Ensemble in 2015. In Aspen, Shine received its world premiere by the American Brass Quintet and is being performed at Juilliard, Princeton, and on their national tours.
Paterson is also passionate about composing for choir. An album of Paterson's choral music was recorded by Musica Sacra and Maestro Kent Tritle, released in 2015. Paterson was one of Volti Choir of San Francisco's first Choral Arts Laboratory composers, and won the Cincinnati Camerata Competition for his setting of Do Not Stand at My Grave and Weep (text by Mary Frye). The panel chose his music for its "expressive choral writing, text painting and imaginatively beautiful textures."
Having written over ninety works to date, Paterson has received accolades and won awards for his works in virtually every classical genre. His awards include the Copland Award, a three-year Music Alive! grant from the League of American Orchestras and New Music USA, the American Composers Forum, the Utah Arts Festival Commission Competition, Cincinnati Camerata Composition Competitions, two ASCAP Young Composer Awards, and fellowships include Yaddo, the MacDowell Colony, the Aspen Music Festival, the Hambidge Center for the Creative Arts and Sciences and the Atlantic Center for the Arts.
Born in 1970, Paterson was raised in Buffalo, New York, the son of a sculptor and a painter. Although his first love was percussion, he soon discovered a passion for composition, writing his first piece at age thirteen. In the late 1980s, Paterson pioneered the development of a six-mallet marimba technique. He presented the world's first all six-mallet marimba recital at the Eastman School of Music in 1993, and released the first-ever album of six mallet music, Six Mallet Marimba in 2012 (AMR) to a sold out crowd at the Rubin Museum in Chelsea, NYC. In 2005, Paterson founded the American Modern Ensemble (AME), which spotlights American music via lively thematic programming. He serves as artistic director for AME as well as house composer, frequently contributing new pieces to the ensemble, and directs the affiliated record label, American Modern Recordings (AMR), which is distributed by NAXOS.
He holds degrees from the Eastman School of Music (BM), Indiana University (MM), and Cornell University (DMA). Paterson has given master classes at numerous colleges and universities, most recently at the Curtis Institute of Music, Aspen Music School & Festival, University of Denver, New York University, and the Cleveland Institute of Music. He resides in New York City with his wife, Victoria, and son, Dylan.
---
Previous Composers-in-Residence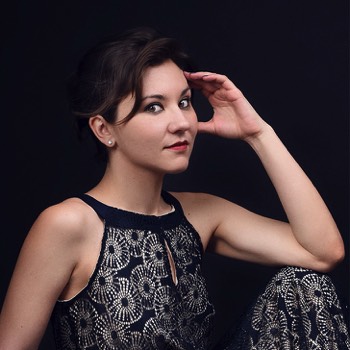 Nina C. Young, 2018 
New York-based composer Nina C. Young (b.1984) writes music characterized by an acute sensitivity to tone color, manifested in aural images of vibrant, arresting immediacy. Her experience in the electronic music studio informs her acoustic work, which takes as its given not melody and harmony, but sound itself, continuously metamorphosing from one state to another. Her unique musical voice draws equally from elements of the classical canon, modernism, spectralism, American experimentalism, minimalism, electronic music, and popular idioms. Her projects strive to create unique sonic environments that can be appreciated by a wide variety of audiences while challenging stylistic boundaries, auditory perception, and notions of temporality.
Young's works have been presented by leading cultural institutions such as Carnegie Hall, the National Gallery, the Whitney, LA Phil's Next on Grand, and the St. Paul Chamber Orchestra's Liquid Music Series. Her music has garnered international acclaim through performances by the American Composers Orchestra, Inscape Orchestra, the Milwaukee Symphony Orchestra, the Minnesota Orchestra, the Phoenix Symphony, Orkest de ereprijs, the Nouvel Ensemble Moderne, the Argento Chamber Ensemble, Divertimento Ensemble, Either/Or, the JACK Quartet, mise-en, Scharoun Ensemble, Sixtrum, wild Up, and Yarn/Wire. Winner of the 2015-16 Rome Prize in Musical Composition at the American Academy in Rome, Young has also received a Koussevitzky Commission from the Library of Congress, a Civitella-Ranieri Fellowship, a Charles Ives Scholarship from the American Academy of Arts and Letters, the Salvatore Martirano Memorial Award, Aspen Music Festival's Jacob Druckman Prize, and honors from BMI, IAWM, and ASCAP/SEAMUS. Young has held fellowship residencies at the Aspen and Atlantic Festivals, Akademie Schloss Solitude, Nouvel Ensemble Modern's 2014 FORUM, and the Tanglewood Music Center.
Recent commissions include Tête-a-Tête for two toy pianos, deskbells, and video projection for the HOCKET Ensemble supported by the LA Phil, a violin concerto for Jennifer Koh, a community sound installation and performance for Miller Theatre's Morningside Lights Processional Arts Workshop, a solo guitar piece for Jiji Kim supported by Concert Artists Guild and the BMI Foundation, a new work for the PRISM quartet, a new work the American Brass Quintet and EMPAC's wavefield synthesis audio system, and a work for solo snare drum and transducers for percussionist Mike Compitello.
Young's interests are now headed in the direction of collaborative, multidisciplinary works. While in Rome, Young worked with choreographer Miro Magloire and the New Chamber Ballet to develop a site-specific piece, Temenos, around the intersection of movement, architecture, and sound at the Tempietto Del Bramante. During the 2016-17 season the American Composers Orchestra Underground premiered Out of whose womb came the ice(commissioned by the Jerome Foundation) – a work for baritone, orchestra, electronics, and generative video commenting on the ill-fated Ernest Shackleton Trans-Antarctic Expedition 1914-17. In 2016 Young collaborated with performance artist and women's rights activist Erin Helfert to develop the sound design and 8-channel sonic installation of RITE OF PASSAGE – a performance piece that explores death, liminality, and rebirth as inspired by Helfert's five-year rape trial in a Moroccan court. Young is collaborating with vocal bassist Andrew Munn on an evening-length, multimedia ritual opera titled Making Tellus: An Opera for the Anthropocene that addresses the current socio-political conversation surrounding human intervention and the Earth's rapidly changing geology.
A graduate of McGill and MIT, Nina completed her DMA at Columbia University where she was an active participant at the Columbia Computer Music Center. Nina is an Assistant Professor of Composition and Director of Electronic Music at UT Austin, and a Visiting Composer at the Peabody Institute. She serves as Co-Artistic Director of NY-based new music sinfonietta Ensemble Échappé, a visiting artist at Arts Letters & Numbers, and board member of Qubit's Harlem pop-up-venue Project-Q.  Peermusic Classical publishes her compositions.
Justin Dello Joio, 2017
New York born composer, Justin Dello Joio, is the seventh generation of composer in the Dello Joio family. Currently the Faculty Composer in Residence for New York University, he has been described by distinguished composer John Corigliano "Justin Dello Joio is a born composer. A real musician with a sparkling craft who has something urgent to say in his works, and the ability to say it. In an age when so much contemporary composition seems dictated by its technologically sophisticated means, it is wonderful to hear music that is composed completely by ear, mind and heart. His knowledge and mastery give his work a distinction that many other writers lack…he is a wonderful composer whose music has lasting power – A real creative artist!" Composer Witold Lutoslawski described Dello Joio as" an extremely talented and gifted composer". Ned Rorem wore of his work, " Of the hundreds of composers I know he is perhaps the most natural. He writes what he wants, not what the current market presumably demands… His music speaks."
The NY Times (Allen Kozinn) described his recent performances at Bargemusic (8/29/ 2012) as 'an electrifying account of "Due per Due," a beautiful, fast-moving dazzler by Justin Dello Joio." Grammophone Magazine (Andrew Druckenrod) wrote of his works "Exquisite new music… Justin Dello Joio: just the right voice. Building like a Mahlerian symphonic movement, the tonal implications of the minor third blossom in aching beauty. The music is gorgeous"   The San Francisco Chroncle (Joshua Kosman) wrote "The clarity and wit of his writing is delightful. A splendid piano trio — a terse, sharply contrasting pair of concert etudes and a profusely imaginative sonata. " The International Record Review (Andrew Druckenrod) wrote ""Dello Joio's works are utterly compelling. The works performed here are intense, full of suffering, and Angst. A Concert Etudes entitled Momentum …is a vital and exciting exploration of two musical ideas, which are juxtaposed and combined with huge rhythmic energy and constantly alternating meters. Equally important is the coruscating virtuosity required of the soloist, with a fantastic drive, and a headlong rush to the very end. A corpus of works in this style might provide us with an early 21st century alternative to the Ligeti Etudes" Sequenza 21: 12/30/08 writes, "This one act chamber opera, scored for only a handful of voices and winds, is amazingly colorful and nuanced in orchestration, and full of lyrical power. The introduction, for winds alone, oozes and shimmers… This is a moving, colorful and emotional composition. This is opera done right. All the energies in this work are focused upon the emotions of each character and the deeper subtext beyond the surface events."
Dello Joio's music, including symphonic, opera, chamber, and solo works, has been performed and commissioned by some of the leading performers in the music world. Myung Whun Chung and the Orchestre Philharmonique de Radio France and the Boston Symphony have co -commissioned a piano concerto for the pianist Garrick Ohlsson for the 2016 season. Mr. Ohlsson has performed and recorded his solo piano music for Bridge Records. His Due Per Due was commissioned for NY Philharmonic Principal Cellist Carter Brey and Christopher O'Riley. His one act opera, Blue Mountain, was commissioned premiered and recorded in Oslo, Norway by Det Norske Blasensemble and also released on Bridge Records. He has been performed, and /or commissioned and/or recorded by the Detroit Symphony and other leading orchestras, the Lincoln Center Chamber Music Society, The American Brass Quintet, NY Philharmonic Principal Cellist Carter Brey, pianist Christopher O'Riley, violinist Ani Kevafian, pianist Jeremy Denk, Stephan Gosling, William Wolfram, Det Norske Blaseensemble, among others.
Dello Joio, the seventh generation of composer in his family, was honored with the American Academy of Arts and Letters highest award, The Award in Music, after previously receivingThe Lakond Award, and The Charles Ives Scholarship from the Academy. Dello Joio has received the John Guggenheim Fellowship and was honored as Composer of the Year by the Classical Recording Foundation in 2007. He has received awards and grants from The 
New York Foundation for the Arts, The National Endowment for the Arts, CAPS Grant, The New York State Council on the Arts, 
3 Meet the Composer Grants, The Presser Foundation, 
The Lado Award, The Alexander Gretchaninoff Award (String Quartet #1)
The Marion Freschl Award.
Recent commissions include the Koussevitsky Foundation and The Library of Congress, Boston Symphony Orchestra, Orchestre Philharmonique de Radio France,and his works are published by, E.B.Marks Music, Theodore Presser Company and G. Schirmer, and recordings are available on Bridge Records.